IMPLEMENTASI IOT di Era Industri 4.0, DORONG PENINGKATAN DAYA SAING INDUSTRI di INDONESIA
Surabaya, BISKOM – Penerapan internet of things (IoT) dinilai menjadi investasi bagi industri yang dapat meningkatkan daya saing, khususnya di pasar global. Efisiensi dan potensi peningkatan penjualan dinilai sebagai dua pengaruh utama. Setidaknya itu yang tergambar dalam serangkaian acara seminar dan workshop Peningkatan Daya Saing Melalui Internet of Things dan Implementasi Industri 4.0, yang di laksanakan pada hari Selasa 10 September 2019 bertempat di hotel Shangri-La Surabaya.
Even kolaborasi apik antara Komite Ekonomi dan Industri Nasional Republik Indonesia (KEIN-RI), KADIN Jawa Timur dan APTIKNAS (Asosiasi Pengusaha TIK Nasional) ini begitu menarik perhatian ratusan para peserta yang hadir yang rata-rata kalangan pebisnis dan pengusaha. Tampak hadir selaku pembicara dalam acara tersebut Ketua Komite Ekonomi dan Industri Nasional, Sutrisno Bachir.
Dalam kesempatan tersebut Sutrisno Bachir menyampaikan, dalam era industri 4.0, di mana perdagangan antar negara dapat dilakukan dengan mudah melalui pelbagai marketplace yang ada, jiwa nasionalisme di tubuh anak bangsa harus ditegakkan. Hal ini guna membendung banjirnya barang impor dari berbagai negara di pasar Indonesia.
Lewat pemaparanya Ketua KEIN-RI, bahwa era digital memang menjadi keniscayaan. Tetapi hal ini jangan kemudian membuat anak bangsa menjadi silau dan ingin membuat marketplace semua seperti bukalapak atau tokopedia, dimana barang yang dijual justru barang dari luar negeri, seperti China.
Menurutnya, masyarakat Indonesia harus jeli dan berhati-hati dalam menyikapi era industri 4.0. Jika tidak, maka besarnya potensi sumber daya alam Indonesia yang sangat besar ini tidak akan memiliki added value yang besar bagi kemajuan ekonomi Indonesia. Menurutnya ada dua kunci dalam memacu ekonomi nasional, yaitu tidak mudah melakukan impor dan tidak mengekspor bahan mentah.
Dalam kesempatan yang sama, Kepala Biro Perekonomian Provinsi Jawa Timur, Dr. Ir. Dyah Rahayu Ermawati, MA juga tampak hadir menyampaikan keseriusan Pemerintah Provinsi Jawa Timur dalam perkembangan di era Industri 4.0 lewat berbagai macam program-program kerjanya.
Sementara dari sisi penguatan industri, dalam sambutannya, Ketua Umum Kadin Jawa Timur La Nyalla Mahmud Mattalitti mengatakan bahwa perkembangan persaingan pasar produk-produk hasil olahan industri manufaktur baik domestik maupun internasional yang semakin ketat, memaksa industri nasional untuk meningkatkan daya saingnya.
Di sesi utama seminar dan workshop yang dipandu pengurus Kadin Jawa Timut Ir. Daniel Rohi, M.Eng ,.Sc,yang juga menjadi anggota DPRD Provinsi Jawa Timur terlipih periode 2019-2024 ini menghadirkan pembicara Tritan Saputra, S.T, M.H selaku KKT Industri Kreatif Kadin Jawa Timur dan Ir. Okky Tri Hutomo,
M.IT
selaku Ketua APTIKNAS (Asosiasi Pengusaha TIK Nasional) DPD Jawa Timur.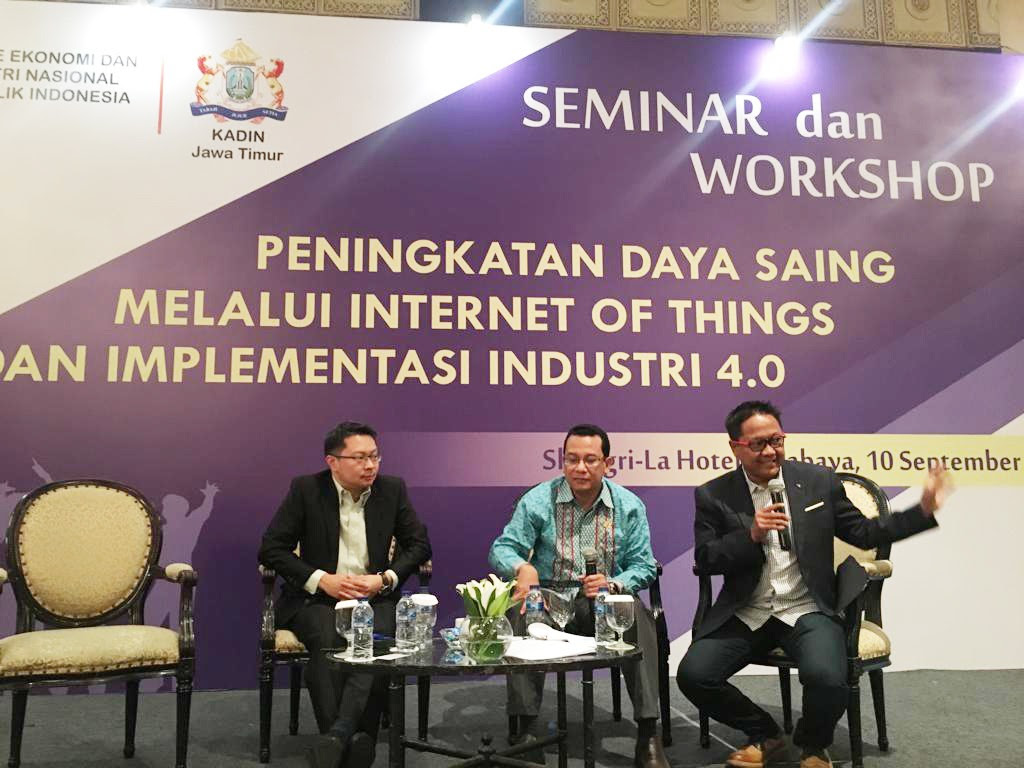 Tritan Saputra yang juga menjabat sebagai Kabid Industri Kreatif DPP APTIKNAS dalam paparannya menyampaikan,'Industri 4.0 Before & After', kehadirannya bagi industri menjadi mutlak untuk diimplementasikan jika ingin tetap bertahan atau menang dalam persaingan bisnis di dunia industri.
'Hal ini diperlukan kemampuan industri manufaktur itu sendiri untuk meningkatkan daya saingnya perlu terus didorong. Salah satu upaya terkini yang semestinya diperlukan serta sejalan perkembangan teknologi IoT (Internet of Things) adalah implementasi Industri 4.0', ungkap Tritan.
"Dengan Implementasi Industri 4.0, diharapkan akan dapat meningkatkan efisiensi dan efektivitas industri manufaktur Jawa Timur, baik Industri Manufaktur Kecil, Menengah dan Besar. Kami yakin, bilamana Industri manufaktur kita telah mengimplementasikan Industri 4.0 secara optimal, akhirnya akan meningkatkan daya saing produk-produk industri mereka," tegas Tritan.
Sementara di kesempatan yang lain Ir. Okky Tri Hutomo,
M.IT
yang juga menjadi Ketua APTIKNAS (Asosiasi Pengusaha TIK Nasional) DPD Jawa Timur menyampaikan paparannya tentang Implementasi IOT dalam Meningkatkan Daya Saing Industri.
Dalam paparannya, Okky lebih banyak berbicara aspek riil pemantaan IOT untuk industri, ia mengatakan IOT mampu memenuhi kebutuhan industri akan efisiensi biaya produksi, peningkatan kualitas dan kuantitas hingga analisa data yang berujung pada meningkatkan daya saing di pasar global.
"Mau tidak mau, penerapan internet of things (IoT) dinilai menjadi investasi penting bagi industri yang dapat meningkatkan daya saing, khususnya di pasar global. Efisiensi dan potensi peningkatan penjualan dinilai sebagai dua pengaruh utama", jelas Okky. (Hoky)